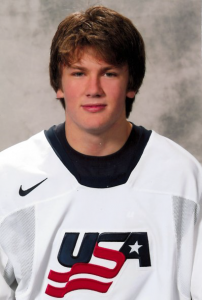 James started playing hockey from an early age for the Brick Hockey Club. In High School he starred for two seasons at Christian Brothers Academy where he earned All-State status as a sophomore in the 2004-05 season. His breakaway goal with 6:17 remaining in overtime in the 2005 NJSIAA Non-Public final gave CBA a dramatic 2-1 overtime victory over Delbarton.
After his sophomore year at CBA, he was recruited by the U.S. National Team Developmental Program where he represented his country in international play and participated three times in the World Junior Championships for the USA.
In 2007, he was drafted by the Philadelphia Flyers but elected to play two years of hockey at the University of New Hampshire. In 2009, he signed a contract with the Flyers and recently signed a six year extension. So far the highlight of his career is reaching the Stanley Cup finals in his rookie season and a strong showing during the 2011 playoffs. James is involved in various charities including "JVR's MVP's" which provides a suite at all Flyer home games for Autistic charities and wounded warriors.