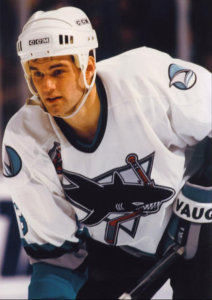 Dave was born and raised in Chatham N.J. He played his youth hockey primarily with the NJ Rockets. Williams played at Chatham Township High School for two years. In his freshman year he scored 24 goals and had 25 assists as the team went 16-8 and finished in first place in the American Division of the MCSHL. As a sophomore Williams had 32 goals and 16 assists.
After splitting high school hockey with Chatham Township and Choate Rosemary Hall, Dave continued his career at Dartmouth College. While at Dartmouth, he captained the team his senior year and was selected All-Ivy 3 of his 4 years as well as All-American 1 year.
After college, he continued playing for 9 years, splitting those years in the NHL and various minor league teams. Most of his NHL time was spent with the San Jose Sharks and the Anaheim Ducks. Dave currently resides on the south shore of Boston with his wife Pam and four children, Chris, Tanner, KC and Lucy.