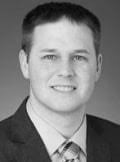 Corey started his hockey career at age four. By six, he was a full-time goaltender. Corey played in several local rinks growing up, most notably Ice World, South Mountain Arena and Mennen Arena. He played for Rockaway Township, the North Stars, the Essex County Chiefs, and the Morris County Colonials.
Corey was a four year Varsity letterman (1991-1995) at Morris Knolls High School. Under Head Coach John Kovacs's tutelage, Corey continued to hone his craft, focusing on the physical and mental aspects of the position. Corey finished his career at Morris Knolls with over 1,500 saves. That total included stopping all five shootout attempts in an overtime victory against Pingry in the Mennen Cup. In his senior year, Corey earned All State honors, Morris County High School Hockey League MVP and Sportsmanship Award. He was also Morris Knolls co-male athlete of the year.
Corey then attended Choate Rosemary Hall prep school for a post-graduate year. He was the starting goalie for Choate during the 1995-1996 season and was recruited by West Point. Corey was a four year Varsity letterman (1996-2000) at Army. In his senior year, Corey made 54 saves
in a 1-0 overtime loss to UMass-Amherst. Corey finished his career at Army with a 2.97 goals against average. Corey served in the Army from 2000-2005 as a Field Artillery officer, earning a bronze star for exceptionally meritorious service in support of Operation Iraqi Freedom. Corey is currently an in-house attorney at LPL Financial. He lives in Walpole, Massachusetts with his wife, Lori and their two children, Ben and Izzy.