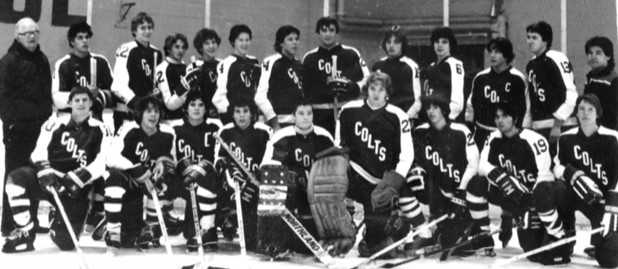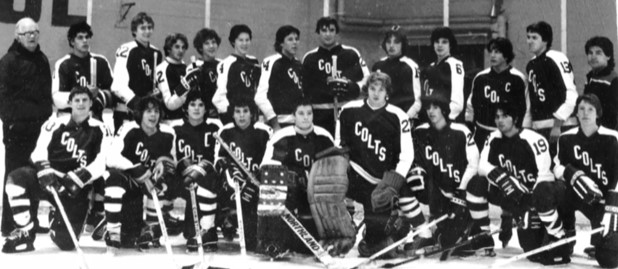 Christian Brothers Academy
1982-1983
For the first time in the history of CBA ice hockey, the Colts captured their first state championship, and were awarded the Star Ledger Trophy. After going 3-13-2 the previous season, the Monmouth County School went unbeaten over its first 19 games (18-0-1) during the regular season, and finished with an overall record of 22-2-1. In the process, this team also accomplished what no other team had ever done, and was the first unranked team at the start of the season to capture a state championship, the first Parochial team to win a State Championship, and was the first non A Division team (now Gordon Conference) to win the State Championship by the largest margin of victory, with a shutout in the State Finals. CBA won the B Division Championship and qualified for the Gordon Cup Tournament.
The team was led by sophomore goaltender, Bob Cielo, a first Team All-State Selection, and Junior Captain forward, Paul O'Hern, a second Team All-State Selection. The team was also led by an explosive set of Junior forwards in left wing, Brian Fitzgerald, (50 points, 17 goals & 33 assists), right wing, Paul O'Hern, (45 points, 23 goals & 22 assists) and center, Pat Bottazzi. The defense was led by juniors, Mark Ryan and Frank Pettinato. CBA outscored their opponents by a margin of 171-47. Seniors Joe Mancuso, John Brow, Ryan McCafferty, Glenn Schaul, Tim Shalloo, Brian O'Hern, Eric Mason, Junior Pete Bottazzi, Sophomores Dave Brow, Ross Kane, Pete O'Mara, Eric Falkinberg, Mike Fitzgerald and Freshmen Mark Bruno, all played vital roles in the success of the team.
Players
Brian Fitzgerald
Pete O'Mara
Eric Mason
Ryan McCafferty
John Brow
Frank Pettinato
Glenn Schaul
Mark Bruno
Mike Fitzgerald
Paul O'Hern
Eric Falkinberg
Tim Shalloo
Pat Bottazzi
Joe Mancuso
Pete Bottazzi
Bob Cielo
Brian A'Hern
Ross Kane
Mark Ryan
Dave Brow
Joe Hanney
Coach
Bob Smith
Brother John Griffin