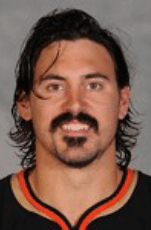 A prototype power forward, Parros was one of the best forwards in New Jersey in 1997-98. He finished with 31 goals and 21 assists for 52 points while helping lead Delbarton to a berth in the NJSIAA Non-Public final. Delbarton finished with an 18-6-2 record that season. After high school, he deferred admission to Princeton to play junior hockey with the Chicago Freeze in the NAHL during the 1998-99 season.
Playing in the juniors gave him a chance to improve his skills and grow bigger. Parros was drafted by the LA Kings in the 1999 draft but before going professional, he went on to play hockey at Princeton for four years. He was named captain in his senior year for the 2002-03 season. He majored in economics and was recently named the 4th smartest athlete by Sporting News.
He earned his way to an NHL career, where he played for the LA Kings, Colorado Avalanche and currently the Anaheim Ducks. He was a member of the Ducks team that won the 2007 Stanley Cup. He has a strong fan following known as "Parros Nation".