The team went 22-1-1 and beat previously unbeaten Chatham Township , 3-2, in overtime in the first state championship at Mennen Arena in 1976. Warren Wolf Jr. scored the winning goal in overtime to give Brick the title.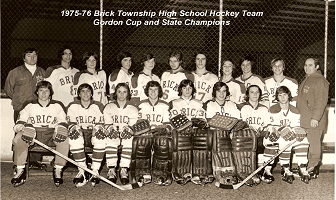 During the regular season, Brick's only loss came against West Essex. The tie came in mid-season against Seton Hall Prep.
Among the top players on the squad was defenseman Bob Smith, who would go on to coach Christian Brothers Academy to the 1983 state championship over Seton Hall Prep. Rich Handchen, the current Brick athletic director, was the third line center. Brick, which compiled a 24-2-1 mark the previous season en route to the Gordon Cup championship, topped Livingston, 4-1, in the 1976 Gordon Cup final. Chris Tutzauer and Phil Lucca netted two goals apiece, and Wolf contributed two assists. Wolf had over 30 goals during the 1975-76 campaign.
Goalies
Mitch Barnfield
Ralph Eldridge
Bill Reich
Defensemen
John Henry
Bobby Smith
Glen Worman
Frank Lach
Mike Barnfield
Forwards
Rick Handchen
Chris Blackburn
Mark Anderson
Pete Farenwald
Scott Barnfield
Bob Auriemma, Jr
Warren Wolf, Jr
Chris Tutzauer
Phil Lucca
Coaches
Head Coach Bob Auriemma
Asst Coach Pat Foley
Asst Coach Jay Andrews